Shopping Cart
Your Cart is Empty
There was an error with PayPal
Click here to try again
Thank you for your business!
You should be receiving an order confirmation from Paypal shortly.
Exit Shopping Cart
It was more than I could imagine when I heard her saying those words. She said to me that she was now my friend. So I began treating her, the ways best friends treated each other. She was very close to me much like a sister. I counted her as one of our family members. I also really liked her because I had no sister as I was the only girl in my family.


One fine day, we went out playing in the field. I was on cloud nine because we played lots of good and fun games. More friends came and joined us. We talked, laughed and made lots of fun. Then my best friend (sister) told me that she had to go home because she was tired. I nodded saying, "Okay, see you then. Take care."


It was almost evening when my friends and I all walked back to our houses. Before I reached home, I could not believe what I came across and saw with my two eyes. I was shocked! It was my brother standing with my best friend by the road side and were kissing. They did not see me.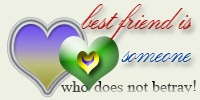 I cried my heart out because my friend had really betrayed me. She told me before that she was like my own sister. But why did she do this to my own brother whom he was like her brother too? She was idiot, stupid and a coward.



I did not like my brother either because he was treating her as his girlfriend. But what about my friendship with that girl? I became lonely again. My brother always took everything that made me happy. I could not forgive them for what they had done to me.



Note: Story created by Temaua Tebano (Form 3B student) in her English Self-Assessment Test.

Categories: Students Stories

0

/