Shopping Cart
Your Cart is Empty
There was an error with PayPal
Click here to try again
Thank you for your business!
You should be receiving an order confirmation from Paypal shortly.
Exit Shopping Cart
Tetai is the name of the garland made primarily for use in traditional dancing. It's so exceptional in its shape, structure, purpose and of course location on the dancer. It stands out clearly and can be easily identified from the rest of the dance costumes. It's also hardly left out from the dancer during a formal traditional performance. And if it happens to fall down from the dancer's head due to vigorous dance movements, it is a practice that someone from the dance group quickly placed it back again.

White coconut leaves are the main materials used in the making of tetai. Unlike other woven (or braided) local garlands, these white leaves serve both as flowers and string. However, other similar materials including paper, plastic or other leaves have been used instead of the white coconut leaves. We've seen garlands made from other materials and they looked really nice indeed. Sometimes red ribbon is placed within and around the garland as a way of adding colors and attraction.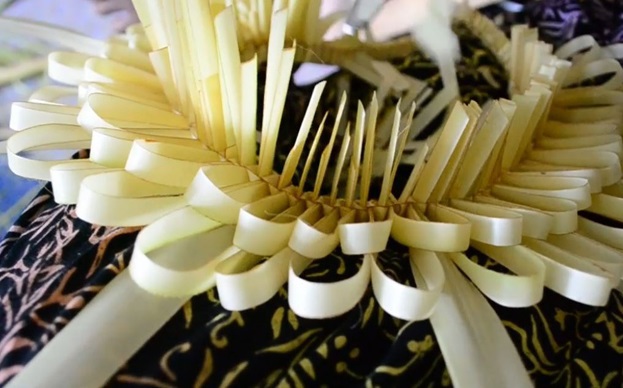 Weaving this garland has been the job of advanced weavers. However, anyone shouldn't be scared of that practice and the rather complicated structure of the garland as (in our opinion) anyone can make it. The skill really includes simple acts of lifting, twisting and folding the leaves - it's easy and nothing's too special about it!

So without further ado, let's watch and learn how to weave this item. Just follow the process presented in the attached video and you'll be fine. If along the way you face problems, just comment and we will assist. All the best!

Click the following link to watch the video on Youtube: https://youtu.be/H72Xf6_CHJ4
Categories: Culture & Custom
/