Shopping Cart
Your Cart is Empty
There was an error with PayPal
Click here to try again
Thank you for your business!
You should be receiving an order confirmation from Paypal shortly.
Exit Shopping Cart
The word 'bwaabwa' is the name of a particular type of basket that is woven only from the green leaves of the coconut tree. The basket is rectangular in shape and has a long straight opening at the top. It looks attractive when newly produced since the raw material being used is the living green leaf cut right off the coconut tree. It then gradually loses its smooth greenish colour over time until the basket becomes dry brown. It is also light to carry and place it around the house. Depending on how you use and care for this basket, it can serve your purposes for at least a year or more.

The bwaabwa is among the handy traditional baskets used a lot by the people of Kiribati. They use it regularly for storing, holding and carrying things around their houses; including fish, fruits and vegetables, rubbish, food, firewoods, and a lot more. After or when not being used, it can be placed either inside or outside the house. Since this basket can be made anywhere and within a short period of time, people tend to make one or more while out camping or working in the bush. Upon returning home, people may use them to bring back fruits and vegetables or other things; otherwise they just leave them in the bush to rot. It isn't a big deal to rot them there as they can be decomposed easily like other leaves that finally enrich the soil with their minerals.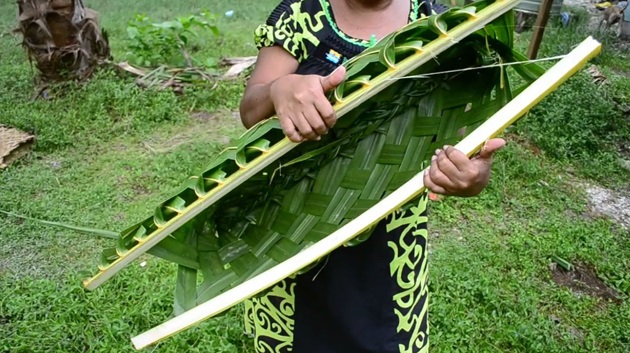 Even though the skill of weaving falls culturally under the responsibilities of grown-up females, not all of them know how to weave this peculiar basket. In addition, it is quite obvious that there are more older than younger women who can perform this job. One of the reasons why the latter lacks this traditional skill is because of their dependence on foreign baskets and bags. As a result, they tended to lose the need and interest to learn the skill. Let that situation not continue otherwise we will end up losing this type of basket from our culture and life. One way to avoid this problem from our midst is by keep passing the skill to our ladies (especially younger ones) through proper means and settings.

To conclude what we've been talking about in this article, we added a section below on how to weave this kind of basket. We listed the things needed then provided a video that fully shows the whole weaving process. Hope this video helps those who wish to learn and master this crucial skill.

HOW TO WEAVE THE BASKET KNOWN AS BWAABWA
Things that are needed:
- coconut leaf
- knife

Process:
Click the following link to watch the process on Youtube: https://youtu.be/o3tcKt87ZJ4
Categories: Culture & Custom
/