Shopping Cart
Your Cart is Empty
There was an error with PayPal
Click here to try again
Thank you for your business!
You should be receiving an order confirmation from Paypal shortly.
Exit Shopping Cart
The word 'itera' is the local name for the special type of flower garland that consists of two layers. The top layer is made of green plant leaves while the bottom layer has colored flowers. The core use of this particular type of garland is for decorating and making a person look decent during formal and informal social gatherings. It has been an important device and its presence seems to not only for expressing the beauty and excitement but also for signifying the honour and importance of the social festival being held.

The proper way of using the itera garland is placing it on a person's head. When resting it on someone's head, be sure that the layer of green leaves is on top and the layer of flowers is at the base - as shown in the picture below. Hence, there are other times when people may tie (hang) it around their neck in order to let it rest over their chests.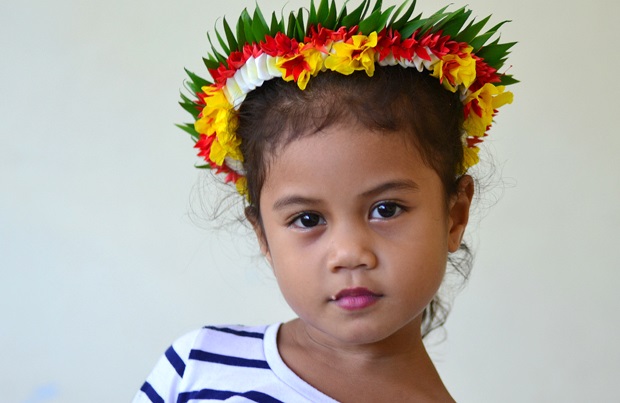 The making of this exceptional garland requires a skill of weaving (or braiding if you like). In our culture, it's the job of the women, therefore many started learning it as they grew up. Despite that, few men are motivated enough to learn and perform this feminine task quite well. Although seeing a woman weaving a garland is conventional, seeing a man doing the same thing often looks strange but definitely not a taboo. The weaver's eyes and fingers work together actively as the weaver performs movements and patterns in fastening both the flowers and green leaves onto the string and into a fine-looking garland. When completed, the new garland is usually dipped into a bowl of water in order for the flowers and leaves to stay fresh much longer. Sometimes, small amount of hair oil is slightly put all over the flowers so that the garland produces such a pleasant aroma for the users.

Let's pause from talking about this garland, and move onto how to make it.

Things needed:
- two (or more) different types of flowers
- green plant leaves
- string
- knife, scissors

Process:
We've made a video on how to weave this particular type of garland. You can watch it on YouTube by clicking this link https://www.youtube.com/watch?v=qTW9PQvnVkg&t=24s


Categories: Culture & Custom
/