Shopping Cart
Your Cart is Empty
There was an error with PayPal
Click here to try again
Thank you for your business!
You should be receiving an order confirmation from Paypal shortly.
Exit Shopping Cart
Before the arrival of foreign items into Kiribati, we had our own traditional ball which we could make from the leaves of the coconut or pandanus trees. Using dry pandanus leaves instead of coconut leaflets will end up with a larger ball because pandanus leaves are longer and wider. We could make either a small or bigger one depending on the size preferences. If we prefer a bigger ball, then it's important to use more leaflets. The more leaflets used in weaving, the bigger the final ball we get. Another way of enlarging a ball (without using many leaflets) is to keep adding new leaflets to the ones being used so the weaving goes on.

In spite of what we stated, this article shows you how to weave a good size ball comprises of 4 coconut leaflets. The ball size and weight are perfect for children's grip and games. It is also easy to weave as it involves only 4 leaflets. This brings up the fact that weaving with more leaves is harder than weaving with fewer leaves.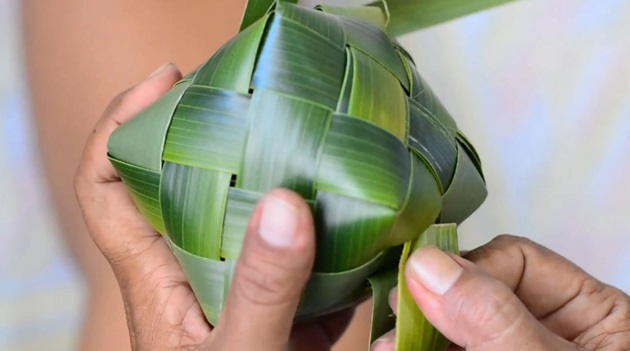 Our traditional name for this particular ball is 'te ano'. Kiribati people used te ano to play different sorts of indoor and outdoor games. One popular and favourable outdoor game that needs te ano is 'te kabwe'. Te kabwe was one of the traditional games Nei Teareintarawa favoured the most. Hope you've heard of that story. If you haven't, then don't miss it as it's one of the best and well known legends. Te ano is the best ball for your children as it is light, soft, easily gripped and of course costless.

If you can't make this ball, think of learning the necessary skills. Who knows a time to make one comes and you won't be prepared. It's also a skill that many people (especially girls and women) know since it involves simple skill of weaving.

Okay, it's time to learn how to make this ball using 4 green coconut leaflets.

Things required
- 4 green coconut leaflets
- Knife or scissors (optional)

Process
We've made a video on how to weave this particular type of ball. You can watch it on Youtube by clicking this link https://youtu.be/Mj5fvKXvqmU
Categories: Culture & Custom
/