Shopping Cart
Your Cart is Empty
There was an error with PayPal
Click here to try again
Thank you for your business!
You should be receiving an order confirmation from Paypal shortly.
Exit Shopping Cart
Has your kid ever asked you to make him/her a toy windmill from the coconut leaflet? If yes but you apologized for not knowing how to, then this article is for you. It's a guide in making this peculiar toy and I'd say that the steps provided in this article and attached video are simple and easy to follow. I suggest you have the leaflet in your hands so you build one as you read down the steps.


Kids really love playing with this kind of toy - it's fun and enjoyable especially on the beach during windy days. You may use other materials instead of the coconut leaflets such as plastic, paper or other ribbon shaped leaves like that of the coconut.


Things needed:
1) green coconut leaflet
2) vein (midrib or straw) of coconut leaflet
3) small knife


How
1] remove the vein from the leaflet
2] cut both pieces of leaflet to a length of about 50cm
3] fold back each leaflet (see image 1)
4] put one fold through and into the other fold (see image 2)
5] let the ends of each leaflet go through the openings of each fold (see image 3)
6] pull the four ends tightly enough each at the time so the leaflets come together forming the wheel (see image 4)
7] flatten the wheel by pressing it within your palms (see image 5)
8] cut the tips of the wheel to any length you prefer (see image 6)
9] pierce through the center of the wheel using any sharp pointed material (see image 7)
10] clean the vein (you remove in step 1) thoroughly with knife and tie a knot at the end
11] insert the vein through the hole you have pierced (step 9) in the wheel
12] make sure the hole pierced is wider than the vein so the wheel spins freely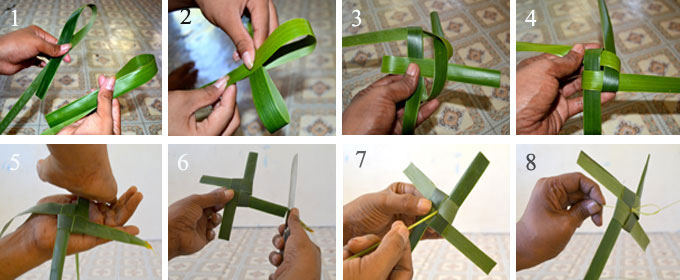 That's all … Hold it out in the wind and see what happens. It should start spinning. Let your children play with it and remember to teach them so they can make their own.

We've recently made a video on how to make this toy which you can watch on Youtube. Click this link: https://youtu.be/JN6Y6tnfzoA

For questions you may have, post them in the comments. Or if you like the article, click the share button below to tell your friends!


Categories: Culture & Custom, News & Information, Other Stories
/