Shopping Cart
Your Cart is Empty
There was an error with PayPal
Click here to try again
Thank you for your business!
You should be receiving an order confirmation from Paypal shortly.
Exit Shopping Cart
Nabetari was from the island of Nikunau in the southern Kiribati. He was born in 1922 and grew up at Tabomatang village. He was kind, honest, hard working and also known to be always happy. Such manners and attitudes made everybody in his village admire him. When Nabetari reached school ages, he began attending a mission (primary) school in his village.


Pastor Mwakaea was the missionary of Tabomatang village at that time. Not just a missionary but a good and dedicated school teacher as well. Among Mwakaea's students was Nabetari who did his school work respectively. At the age of fourteen, Nabetari had to leave school. Soon after leaving school, he was chosen by the people in his village to work for the missionary. The selection to this particular job wasn't easy as it would only be given to boys whom have successfully won public requirements and standards. Nabetari accepted the selection knowing that it was an indication of honor and respect being given to him. His job included cutting toddy, feeding pigs, fishing which he did reliably. Not long, he became a skillful fisherman. The villagers liked and admired Nabetari so much.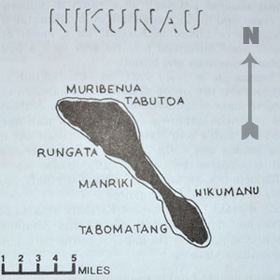 In those years, some people from Nikunau used to travel by canoes to the island of Beru, which was 300 miles south of Nikunau, to join the 'erieri' festivity. It was a big day when milkfish from the big ponds on the island were harvested. Due to his maritime skills, Nabetari was chosen to join a trip of men on several canoes to Beru. Nabetari sailed with his father on their own canoe. The team knew that if the fine weather remained, it would take only a day to reach Beru. Unfortunately, a day went by without seeing any islands. They had gone far beyond their destination leaving it behind. That night, they navigated their whereabouts using the stars. They kept sailing for seven days until they knew for sure that they were now lost in the ocean. They didn't give up though they knew nothing of where they were heading. They fished for food, slept at times and always kept watching for land.


After seven days of drifting, they finally saw an island. It was Tabiteuea which was farther south of Beru. The voyage from Nikunau to Beru usually lasted a day but this particular voyage had taken Nabetari and his men seven days.


This voyage was indeed a trial for Nabetari before his next and grand voyage which had finally made him 'ocean hero'.
Categories: True Stories
/